Even though I haven't started on building the Kotanga Tramway itself yet I've been doing some thinking about the motive power needs for the tramway and while the 'R' Class Single Fairlie (see earlier posting) and the 'Improved 'F' Class 0-6-0 (no pictures as yet) will be fine for the heavier tasks I could see that there would be a need for a smaller tank engine that could do general shunting, act as a banker in a pinch, take a coach down the logging branch for the school run and generally be a handy loco about the yard.
I followed no actual prototype being only guided by the idea that I wanted a small tank engine of British origins that would have been built in the last decade of the 19th Century.. There's still a few small details to complete, but essentially this wee loco is done with regard to her final appearance.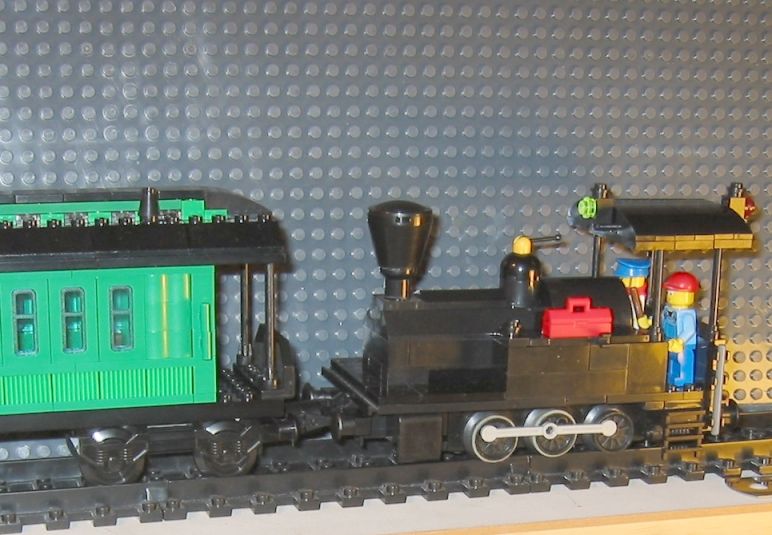 I'm going to make a custom smokebox door for this loco, then there's putting on the rest of the cab handrails and making some decals. Possibly I should put a second safety valve on top of the firebox too. Still trying to decide if the three tramway locos should get names or just make do with numbers. They will be getting
'Kotanga'
on the side tanks so I'm leaning towards numbers. The 'Improved F' will be No:1 (what else!), the Single Fairlie will be No:2 and this wee loco will be No:3.

Locomotive Annie

Vegemite Eater





Number of posts

: 285


Location

: New Zealand


Registration date :

2012-11-16



Aw, it's kind of cute 'Annie'......excellent little tank engine.....Brick On !

Lightningtiger

Kelly Gang Member





Title

: Town MOC builder genius !


Number of posts

: 1668


Location

: Adelaide


Registration date :

2009-10-30



Um yes..... No:3 is a cute wee loco LT. I don't think I was thinking 'cute' when I was building her, but that's how she turned out.

Locomotive Annie

Vegemite Eater





Number of posts

: 285


Location

: New Zealand


Registration date :

2012-11-16



Wow I honestly hadn't even started reading peoples comments when the word 'cute' came immediately and predominately to mind!! It's wonderful Annie nice job.
Thanks Kaila
It was one of those builds that came together really easily even though I did end up with a huge pile of mostly black bricks on my bed by the time I'd finished. Other Lego addicts have tried to interest me in digital design software for Lego, - only a big part of the joy of building for me is getting my hands in amongst the bricks and physically trying out different ideas. Most of the experimentation happened around the cab area and I'm really pleased with how well it came together.
I had wondered about looking amongst my sewing scraps to see if I could find some offcuts that looked like canvas so I could roll them up and hang them from the roof edges as faux canvas side sheets. I'll have a dig about and have a bit of an experiment and if I like what I see I'll post pictures.

Locomotive Annie

Vegemite Eater





Number of posts

: 285


Location

: New Zealand


Registration date :

2012-11-16



LA, it looks great.

I have to agree with you on the joy of using every type of element you have to play around with an idea until you find a solution to your problem.

By using a computer app, you might as well be building sets off the shelf.

brickie

Forum Administrator





Number of posts

: 565


Location

: Logan City


Registration date :

2011-02-23



When we were kids we never had those fancy apps and I bet the builds were still great. Hey Annie I just noticed your missing a wheel rubber there
Ha ha, - I've got an order of wheel traction tyres on the way to me at the moment and when it gets here all my locos with 12volt mechs will be so much more sure footed.

I completed a guards van and a goods van tonight and with the car-van I've already built these three items of rolling stock will make up the branch line set to carry general parcels, mail, newspapers, supplies for the logging camp and even the occasional passenger. So yes, good traction tyres will be needed for both No:3 and No:2 the single Fairlie loco.


Locomotive Annie

Vegemite Eater





Number of posts

: 285


Location

: New Zealand


Registration date :

2012-11-16



Similar topics
---
Permissions in this forum:
You
cannot
reply to topics in this forum