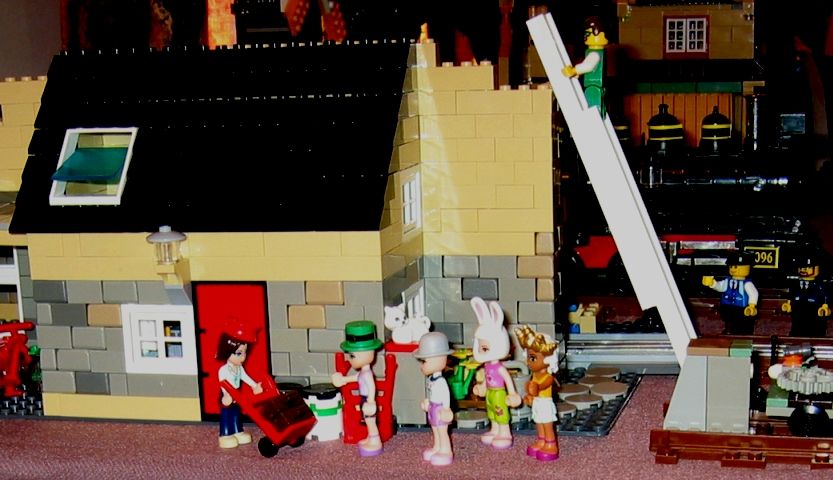 'Hi Gloria, have you seen Olivia?' asks Mia, 'We've all been invited to a silly hats party and we wanted to see if she wants to go too.'
'You won't have much luck there,' says Gloria the porteress, 'Ever since the workshop side of the engine shed's been finished the girl refuses to come out."
Yes at last work on building the Kotanga Tramway has begun and I'm taking the approach of building the loco depot and working out from that corner of the layout and into the rest of what will become the station building and town.
The backstory is that there used to be an engineering works, - Seldom Makepiece & Sons, - on the site and they went bust and the building fell into disrepair. As the Kotanga Tramway is a preservation era line and they needed a loco depot, and the old engineering works also happened to be on the tramway's lands it was decided to rebuild the old engineering works buildings to serve the purpose. Part of the plot will be to make one of those historic marker type signs, 'On this site in 1888 & etc...' and attach it somewhere about the engine shed. With the area where I live having been a hive of gold mining and timber milling activity back in the 1880's there's no shortage of historic marker signs for me to photograph and copy.
With building the Kotanga Tramway I'm going to take a more model railway approach rather than use the total-wall-to-wall-Lego-build method as for one thing I simply couldn't afford to do it and secondly I'd rather concentrate on building individual models like this engine shed instead of attempting to ballast track with a million 1x1x1 bricks in various shades of grey.
I'm not saying that I don't like those incredible total Lego build layouts that are out there in AFOL land, - it's just that I don't want to start something that I know I won't be able to finish. Besides have you see what Carl Greatrix did with his magnificent display layout based on the Great Western Railway? He used a model railway approach with building that layout and there's certainly nothing wrong with how it turned out.
More photos soon as I'll be doing some more work on my engine shed today.

Locomotive Annie

Vegemite Eater





Number of posts

: 285


Location

: New Zealand


Registration date :

2012-11-16



This made me smile a lot
Will you extend this building out to house more than one train? Really like how you used 12v too. Good to see that Olivia put away the spanner
Yes I hope Olivia's friends manage to persuade her to go to that silly hats party too
The lean-to workshop next to the engine shed is fitted out with the contents of the Olivia's workshop set. Unfortunately the roof doesn't come off very easily, but everything can be seen by peeking in the windows.
Most of the layout will be 12volt by the time I'm finished Kaila. I really like the 12volt system, - though some parts of the layout might be tricky when it comes to setting up the conductor rail. I've got RC trains too and I'm working on a PF loco at the moment, but my main interest is 12volt (and 4.5volt) trains.
When i started I was just going to build a single road engine shed, but the more I look at it I can see that I really do need to make it a double road shed with possibly additional machine shop space. I can tell you one thing for free though, - engine sheds take a lot of bricks to build, - and a lot of roof tiles as well if it's an older type shed with a peaked roof.
If I do build a twin road shed I'll build it in two halves though so it's easier to handle and get minifigs out of when they faint in distant corners of the building.

Locomotive Annie

Vegemite Eater





Number of posts

: 285


Location

: New Zealand


Registration date :

2012-11-16



Ah, Olivia is related to the Mad Hatter I see !
Nice work so far 'Annie'......keep going and Brick On !

Lightningtiger

Kelly Gang Member





Title

: Town MOC builder genius !


Number of posts

: 1668


Location

: Adelaide


Registration date :

2009-10-30



Thanks LT
The girls did manage to persuade Olivia to come to the silly hats party (Olivia is wearing the Lady Liberty hat) and they all had a really nice time together,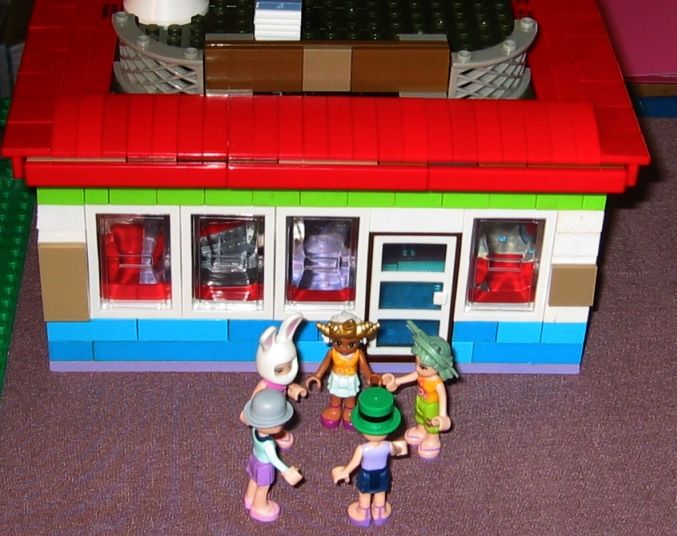 'It's funny you know,' commented Stephanie afterwards, 'I don't remember this cafe being here until yesterday.'
The 'Best Friends Cafe' is so new it doesn't even have its signage completed yet, but the silly hats party for its grand opening seems to have gone well by all accounts. I built the cafe for Kotanga township and eventually it will be beside a small park and have tables and chairs outside. The roof can be removed and the cafe does have interior furnishings. I'm still trying to figure out how to make a coffee machine though, but at least there is a till on the counter so the cafe does at least look like it's open for business.
I will start a new thread for Kotanga township once there is more township to show off, - and now I'll stop being OT in my own topic and get back to the engine shed.

Locomotive Annie

Vegemite Eater





Number of posts

: 285


Location

: New Zealand


Registration date :

2012-11-16



Similar topics
---
Permissions in this forum:
You
cannot
reply to topics in this forum